Whippets
When our son was young, we found the RR's were too strong for him to walk, so we went looking for a smaller dog - naturally one we could show. As it was sometimes difficult to compete in two rings at once, we wanted something in the Hound Group. Our first thought was a Mini Dachshund but they were difficult to come by at that time, so our next choice was a Whippet and what a great decision we made. In 1987, our first Whippet came from Wendye & Stuart Slatyer of Calahorra fame. We were hooked and shortly after another 2 whippets arrived from Wendye.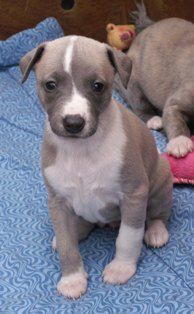 Sighthounds are wonderful and Whippets in particular, make excellent pets. Contrary to many beliefs, they are not shivering, nervous, fine boned but are wild and wicked, robust and confident and happy to mix with other breeds and cats. They are fun and delightful to live with and somehow, their numbers keep growing!
It's been a different experience from the RR's but we're enjoying ourselves and the dogs. We believe our Whippets are competitive and we've experienced some great successes. We have bred 3 Supreme Champions and another not far off. Our most famous whippets are probably Clover and Alice but one of the most notable is the indominatable ELECTRA - Aust Supreme Ch, American Ch Ridgesetter Fly The Flag ET, SC, but was owned by Lisa Barrenger. We thank Lisa for taking Electra and campaigning her all over Australia and the opportunity for her to travel to the USA to Phoebe Booth (Shamasan Knls) and achieving what she has. Electra is now deceased but has 10 CHAMPION PROGENY which is amazing! Clover is still with us. born in 2006, she's now an oldie enjoying the comfort of our laps and bed.
We have and do sell whippet puppies to owners who live in units. Contrary to perception, whippets need a good walk morning and night and for the rest of the time are content to lie around inside. They are small, clean, not noisy and easily trained which makes them an ideal pet for units and townhouses.
Currently our home is shared with:
CLOVER 26.04.06 Supreme Ch Ridgesetter Etain - blue brindle with white trim - daughter of Alice and a delight to live with. Clover has had a very successful career with several Best In Shows, but the highlight for us was winning BEST IN SHOW under world recognised and respected breeder judge, Bo Bengtson of Bohem fame. Clover is mother to our Rain, Tara, and Ava - separate litters. Clover is our golden oldie and current bed companion.
RAIN 2.2.12 Ch Ridgesetter Dontrainonmyparade a dark blue brindle, is a daughter of Clover and had as successful a show career as her dam and grand dam. Whilst she hasn't cracked the magic BIS, she had a R/Up BOB National win and several Runner-Up Best in Specialty Shows to her credit and was a force to be reckoned with in large company with many BOB's with big entries at all breed shows. Rain is now retired and a house dog.
JIMMY 17.08.11 Ch Karnabay Jimmy Choo - a fawn boy co-owned with his breeder Margot Quinn, Jimmy is from Star (Ridgesetter Belrose Star) owned by Margot. Jimmy has had some great wins - mainly at specialty level - including a Reserve Dog at 8 months of age under Roma Wright-Smith from Silkstone UK and a Best In Show at the Qld Specialty under Jon Gunn from Skyeway Whippets. He's a sweet dog and a great sire with many champion progeny. He is the father of our Sandy and Sunny.
SANDY 05.01 2015 Ch Ridgesetter Summer Loving Sandy is from a repeat mating of Jimmy to Jayde. She is a lovely red fawn and has inherited that fabulous movement of her grandfather Cooper and sire Jimmy. Sandy is a Best In Group winner from 6 months of age and went on to win Best In Show at the Hound Club of Vic under Sighthound Specialist, Per Lundstrom from Norway. She is a National Best Gaited and is the choice of specialists having great wins under Red Tatro (USA), Iva Kimmelman (USA) and is the mother to our Oscar.
RYDER 11.05.2019 Ch Ridgesetter Where The Boyz Are From a litter of 9 males and 1 female, Ryder is a son of Lola and Oscar is a fawn brindle, moderate size and fabulous movement. He won a Best In Show all breeds winner at 8 months of age and continued winning with many groups and class in show awards. We are awaiting his first litters to be born in August and September 2020. In early 2020 he was Nol 2 nationally in the Rising Star Dogzonine Pointscore before the competition was cancelled due to Covid-19. He is shy of his Supreme Champion title and we can't wait to get back in the ring to achieve this.
NIVEA 24.07.2019 Ridgesetter Nivea From our makeup litter, Nivea was the only girl in the litter from Ava and Bolt (Ch Ridgesetter Run With Yr Heart At Wyldchase) who lives in South Aust. Nivea was born a soft silver and has grown into a pale fawn with white trim. She is a very active girl, always running and playing – or digging a hole, but we love her character. She's done extremely well in the show ring with many class in groups and in show. Nivea had her first litter in 2021 to Bentley, producing 4 puppies, one of which is a cream (liver).
ROSIE 5.07.2020 Ch Ridgesetter Sunshine N Cloud Rose is from a mating of Sunny to Harvey (Ch Bundoon Simply Wonderful). She is a solid fawn brindle with the same character and disposition of her mum. Rosie titled easily before 1 year of age with plenty of group and class in show wins along the way. Like her mum, she has strong, sound movement.
LEXIE 16.08.2020 Ridgesetter Lexus From a mating of Shelby to our Ryder, we kept Lexie. She is a striking red brindle and white. Again, she has been a strong youngster in the show ring and before Covid stopped shows, is sitting on 89 points. Her litter brother, Chevvy, owned by Bec Kelly, is closer to his title. Lexie is a small, shapey and eye catching girl. Lexie won her class in show at the specialty shows in Easter 2021 plus numerous other groups and in show wins at all breed shows.
MOLLY 1.10.2020 Ridgesetter La Dolce Vita Molly is from our mating of Ava to Luigi (Ch Shawthing Ima Luigi) in Qld. She was born nearly all white and as a young adult, now has a little bit of blue brindle colour on her ears and a spot on her side. Molly was sold early on but came back to us through no fault of hers. She's a very sweet soul and no problem so has ended up staying. As she suffers from car travel, we haven't show her heavily - just specialty shows where she has acquitted herself with class placings.
TICTOK 1.10.2020 Ridgesetter Matter Ofheart TicTok is a dark brindle and white girl from the Ava x Luigi litter. At 6 weeks she was diagnosed with a severe murmur which was diagnosed by cardiologist, Dr Rita Singh as an aortic stenosis which means she has a thickened heart wall and narrow aorta. Prognosis is not good but TicTok doesn't know she is ill or different and lives a full and happy life running with the rest of the pack.
FRANKIE our 'D' dog. 15.05.2020 Miniature Smooth Haired Dachshund, Ch Boarbadger Ragtime, co-owned with friends Gail & Colin Arkell of Itsozi - ACS & Salukis. Frankie is a character. Bold, defiant, intelligent, fabulous with baby whippets, full of life and fun. Our thanks to her breeder Nick Gouzos in Sth Aust for this little dog with a great heart.
Living with others:
SUNNY Aug 2017 Supreme Ch Ridgesetter Sunshine N Cloud. Sunny by name and Sunny by nature. A fawn brindle, Sunny is a delightful dog to live with She has the best disposition and as a show dog, always gives 100% A multiple Best In Group winner, with 2 Best In Show All Breeds to her credit, she is one challenge short of her Supreme Champion title. In July 2020 she produced her first litter for us and we kept Rosie (Ch R. Sunshine N Clouds). In early 2021, due to Covid and no shows in NSW, Sunny went to South Australia to good friends Geoff & Kerry of Wyldchase Whippets where Sunny has continued to win Best In Shows, Runner-Up Best In Shows and multiple groups as well as lying around in her favourite armchair.
AVA 05 .01. 2015 – Ch Ridgesetter Dark N Desirable. A daughter of Clover, Ava has all the characteristics and beauty of her mum and grandmother. She is a very pretty dark brindle and has had some fabulous wins including a Best In Show Hound Club NSW under specialist Russell McFadden from the USA plus a Reserve Challenge Bitch at the Whippet Assn Vic Show under Arnoldo Cotugna from Sobresalto in Italty. Ava now resides at Forster on the mid north coast, walking on the beach daily and being a couch potato.
BENTLEY 23.03.2015 Ch Ozrhode Celtic Simply Class. The wheel turns around. Charm went to live with Steve and Sue Codognotto of Ozrhode fame back in 2003 and became the foundation for their whippets. Now 3 generations on, Bentey has come to live with us. A half brother to Ava through sire Aus UK Ch Collooney Move On Over (Imp Ire), Bently is a lovely cream boy with a zest for life always doing everything at full speed. Desexed and collected Bentley and Shelby moved out as a pair in 2021.
SHELBY 6.08.2017 Ch Ridgesetter Shelby a dark fawn brindle. This was our fast car litter but Shelby just ikes to sit around and cuddle. She has the most beautiful head and expression and has 2 Res Challenge Bitch at specialty shows to her credit. After a tear to her uterus on her first litter, we desexed Shelby and she and Bentley now live in Kangaroo Valley having long walks, visiting friends and lying in the sun.
OSCAR 12.01.2018 Ch Ridgesetter Running Riot Our run theme itter Oscar is a fawn and white boy out of Sandy and Twitch . Oscar is another soft boy who loves a cuddle. He is a Runner-Up Best In Show all breeds winner and has consistently won his class in large competition. Oscar is proving to be a great sire with some lovely progeny. When contacted by a family who had purchased a whippet from us quite some time ago, and were moving to the country, we agreed to let Oscar go on trial. Well what a wonderful life he has entertaining 4 children and keeping the bunny populaton down in the central west.
LOLA 5.02.2016 Ch Ridgesetter Looks Like Rain. Our little showgirl, Lola is a multi Best In Show all breeds winner and many Best In Groups to her credit. She is a smaller sized, shapey and curvey blue brindle and white girl who always shows her head off. Now living with Bec Kelly of Hirize Lola produced a great litter of 10 gorgeous puppies in July 2020.
TARA xx Ch Ridgesetter Follow The Dream What a dream Tara has been for Kaz Cleave of Bundoon Whippets. A Best In Group winner at Sydney Royal, a Best In Specialty Show twice winner, a fabulous brood bitch producing the stunning Harvey We are very proud breeders.
SOPHIA – Ch Ridgesetter Dark N Delicious - (dark brindle) - a litter sister to Ava, she has a huge personality and character. Sophia resides in Brisbane with Julie Jenkins (Julieze) and won Baby Puppy In Show at the Qld Specialty in 2015. Sophia has produced a couple of litters for Julie.
JAYDE 1.12.09 Ch Ridgesetter Out Of The Blue (blue fawn and white) - - daughter of Blue and the gorgeous Cooper (Supreme Ch Peperone New Sensation). Jayde is a great size and has a big movement. She has generally placed well at specialties, winnng her class in show at some. She has had 2 litters to Jimmy and produced gorgeous pups both times. She is one of the best mums we've had but we let her go to a special new home in 2015 in the Gold Coast where she is much loved and spoilt.
CLOUDY - Ch Ridgesetter Rain Cloud - (blue brindle) - living with Geoff Love and Kerry Hutt of Wyldchase Whippets in South Australia. Litter brother to our Rain, Cloudy has received many compliments on his movement and has had a successful start to his show career.
ROSIE - Ch Ridgesetter High Tea At Belrose - (fawn brindle with white trim) - lives with Michelle Gallo and is constant companion to her daughter, Tayla.
MING - Ridgestter Ming Dynasty - lives with Margot Quinn of Karnabay Whippets. Ming is mum to Star who is mum to Jimmy.
LEO - (fawn brindle) 2.2.13 Ch Rorystar Napoleon - bred by Christine Kirkman, Leo is an outgoing boy of moderate sized with a big side gait. He has the most beautiful head and expression and generally placed well at specialties winning his class several times. Now desexed, he has a fabulous life on the beachfront in Sydney.
CLOUDY - (fawn brindle) 10.4.13 Ch Bonnymead Autumn Cloud - a daughter of Halle, grand-daughter of Clover and Great-grandaughter of Alice bred by Noreen Harris in Melbourne. Cloudy was a slow maturer and has the most sweetest nature Never enjoying the show ring, she gave us 2 litters and is the mother of our Sunny. Now retired, she filled the void of a couple who had lost a whippet that they had got from us many years ago.
HALLE - Ch Ridgesetter Summer Rain - (silver fawn) - a litter sister to male Cloudy and Rain, she lives with Noreen Harris of Bonnymead Whippets in Melbourne. Halle is a lovely shapey girl who has proven herself in the showring and the whelping box.
SMUDGE - (fawn) Ridgesetter Worth The Wait - line bred on Electra out of Rosie and Nugget, after competing well in the Vic Specialty, Smudge broke her leg at 4 months. We took her to the orthopaedic specialist, but unfortunately, due to the growth plates closing and the leg bones growing unevenly, we made the decision to amputate her leg at 6 month of age. She recovered extremely well and can keep up with all the other whippets. Smudge is a 'talker', very active and agile and doesn't know she has 3 legs. She now resides locally with Emil and Natasja to keep Duke (Whippet) company. After consultation with vets, we mated Smudge to Jackman (Ch Isilwane I Am Who I Am) in April 2015. She produced 6 gorgeous puppies in 1 hour 40 minutes and son Remy keeps her company.
GONE BUT NOT FORGOTTEN:
ALICE - (silver brindle) Feb 2001 - Sep 2015 - Ch Bonnymead Alice Bluegown. She was really a person on 4 legs. A beautiful, shapey girl with a fabulous character. Alice, mother of Clover, Grandmother to Rain and Ava, was a special dog. You love them all but some leave a bigger hole in your heart and a space on your bed. Our thanks to Noreen Harris for letting us have Alice all those years ago.
ELECTRA - aka The Supreme Being - Aus Supreme Champion, American Ch Ridgesetter Fly The Flag, ET, SC - who resides with Lisa Barrenger of Isilane Whippets. Electra is one of those true ambassadors for the breed with multiple champions and enough character to share around several whippets. At 14, she carries on like a puppy.
SPOT (fawn and white) - Ch Ridgesetter Made In USA [IID] - a son of Electra. Sadly we lost her litter sister, Blue (Ch Ridgesetter ) in 2012. Now desexed, Spot is a sweet and gentle boy who was an excellent babysitter for all our puppies. When a family in Tasmania lost Spinner to old age, a male we had sent down several years ago, Spot at 5 years, was an obvious replacement. He now travels the country in the caravan with his family.
PANDA - (fawn and white) Feb 2001 - Mwandani Tyrensa - came to us as a result of an unplanned mating between 2 dogs we sold as pets up the north coast. I helped sell some of the litter but we fell in love with Panda so she stayed. We lost Panda, at almost 15years of age. She was a very sweet and gentle girl and everyone's favourite. Panda's progeny have gone to be the foundation for Ozrhode and Karnabay Kennels.
BABY Ridgesetter Heart (blue fawn and white) who was diagnosed with a severe pulmonic heart disease at 7 weeks and prognosis was she wouldn't live till 12 mths. Well, she made it to 14 years old! She was tough, living with severe cardiac disease without medication, survived anaesthetic for desexing and then a few years later, anaesthetic for teeth removal. Baby was Panda's shadow and the 2 girls were never apart.
STAR Ridgesetter Belrose Star was the foundation for Margot Quinn of Karnabay Whippets. A lovely fawn girl, Star never enjoyed showing but she was a great mum producing our Jimmy.
Contact Details
Toni & John Comerford
Douglas Park (near Camden), NSW, Australia
Phone : 61 2 46 309100 / 0431220815
Email :
[email protected]